Dry Cracked Feet Testimonials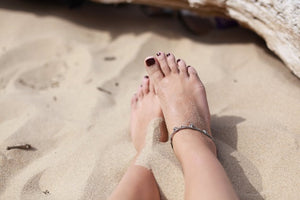 You're on your feet most of the day. Wearing tight shoes, walking with sandals or barefoot, working in wet conditions, or being affected by low blood flow due to diabetes can extract the moisture out of your feet and sometimes bring them to the level of cracking. Protect them with our powerful wax barriers and infuse them with the high concentration of moisture in Formula 2 Skin Care Cream. With a combination of ingredients that also reduce yeast buildup, your feet will get the balanced care they need.
Below are before and after pictures of a patient treated by a podiatrist using Formula 2 Skin Care Cream. This patient was seen by the doctor one month prior to having vascular surgery of his right lower extremity. The surgeon referred the patient to the doctor's practice to treat severe tylomas and fissures. The doctor treated this with Formula 2 twice a day daily following soaks and sand-paper treatments. The results were a non-ulcerative foot with healthy tylomas prior to vascular surgery. The patient continues this treatment currently with great results! The podiatrist now uses Formula 2 on all patients in the office!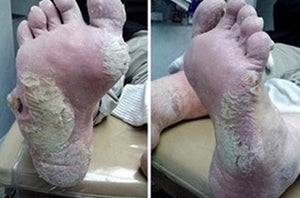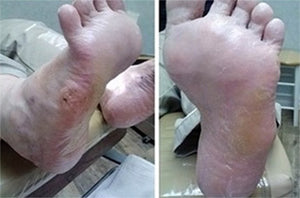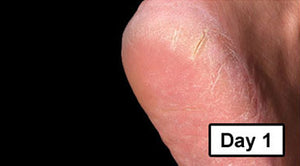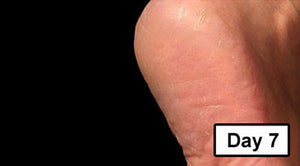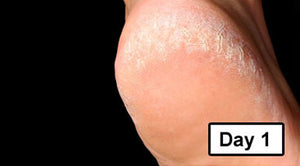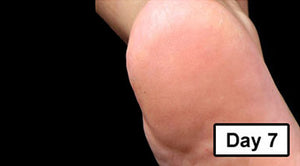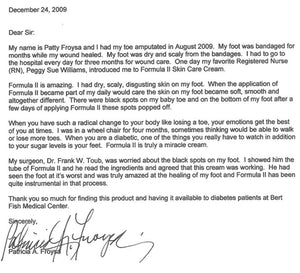 "I have been a pharmacist for 15 years and have recommended many creams and lotions to patients complaining about dry or cracked heels. I never realized how difficult it was to soften cracked heel skin until my husband developed diabetes and needed to take special care of his feet. We started using all of those old standards that I used to recommend and none of them worked to relieve my husband's problem until I tried Formula 2. My husband started using it every night before he went to bed and we saw a significant difference in as little as 3 nights. Now he uses it every evening and I have changed what I recommend to my patients." - L. Sanchez, R.Ph
"My husband was in the hospital. While in there, the nurses saw his feet were really dry and scaly. They gave him Formula 2 Skin Care Cream to moisturize his feet. It worked really well. Within 2 days, his feet were looking wonderful-- no scaling!!! I have never seen or had a cream that was so thick and creamy. I am really happy the hospital gave it to us and I can keep buying it from a pharmacy when I need it." - Cheryl M., Delaware