Diaper Rash Testimonials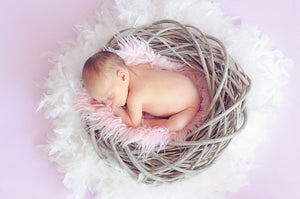 Your baby's skin is important. Urine and feces in diapers can easily irritate a baby's bottom. To protect their sensitive skin and heal any existing diaper rash, Formula 2 Skin Care Cream combines ingredients that are gentle yet powerful enough for combating yeast build up, moisturizing sensitive skin, and balancing the pH levels to bring about comfort. We do not add alcohol, fragrance, or lanolin. We also do not add zinc oxide, which when dry, can cake on a baby's sensitive skin thereby causing discomfort when removed. You won't find anything better in the market for diaper rash and irritation.
"Thank you so much for this wonderful cream!!! My son has hirschprung's disease and recently had a colostomy reversal. As part of this post op surgery issues/concerns, most children have SEVERE diaper rash and he did!!! I tried everything, even prescription diaper cream. The only thing that worked and worked well was the Formula 2 Skin Care Cream. It significantly healed his severe rash within a few days. I still use it daily as this may be a problem for years. I love it and highly recommend it to anyone with skin care issues. It works GREAT!!!!"

"I used Formula 2 on a diaper rash that my daughter developed and was not healed by other national brands. Formula 2 took the diaper rash away in two days." - B. Anderson, Delaware
"As a pediatric occupational therapist and a new mom, my hands have never been drier from repeated washings! I have wasted too much money on various skin creams as they get rinsed down the drain every time I wash my hands. Formula 2 is by far the best cream I've ever used because it stops the dryness cycle dead in its tracks. Just one application in the morning and my hands retain a soft, supple feel all day long! This cream gets absorbed deep into the skin where it repairs and protects like no product I've used before. In addition, I've discovered that Formula 2 is the most effective diaper cream to clear up and prevent rashes for my 10 month old son. When he recently suffered from an intestinal virus that caused severe diaper rash with open sores, I tried every diaper cream available without success. Formula 2 cleared it up within 12 hours and his wounds were healed within a day!! It is always in my diaper bag and purse. I don't leave the house without Formula H anymoreM." - D'agostino, MS ORT/L
"Our granddaughter had a colostomy, which was reversed in July. The surgeon recommended another product which we began using prior to the reversal. Her diaper rash was unreal. Other parents of colostomy reversals indicate it has been a problem for them also. We tried everything and nothing worked, until we tried your cream. We have used four jars since August and I just ordered two more. It really does work! We plan on telling our surgeon and other parents with the same problem." - R. Hearn, Georgia
"I had a baby last year and began using Formula 2 on him immediately after his birth. My son had never developed diaper rash in ten months. Until I ran out of Formula 2 and began using a major national brand of diaper rash cream. While I was using this other product, he developed diaper rash within a week. I began using Formula 2 again immediately and will never use anything else. It is a great product which is a great value for the money. I highly recommend it." - S. Clatworthy, Delaware
"I can't say enough about Formula 2. It is the best product ever made. If you have dry skin, diaper rash problems, or itchy dry skin on any part of your body Formula 2 can clear up the situation overnight. One time I was having pictures taken of my daughters and they had the rosy, dry red cheeks from being out in the cold wind all day. I gave them a nice warm bath and put Formula 2 all over their cheeks and sent them to bed. The next morning their cheeks looked perfectly normal. Everybody should know about this product, because it is so effective and there is nothing out there like it. I just want to thank you for producing this product." - D. Gardner, Wilmington, DE
"We began using Formula 2 for my husband's hands, that were cracked with lacerations and deep wounds that bled. Formula 2 is the only cream on the market that actually healed his hands....When my children were babies, we used Formula 2 for diaper rash and it healed the problem overnight....I have been using Formula 2 on the fine lines and wrinkles around my eyes and can see drastic results." - D. Dillon, Maryland
"Being a mom and a speech therapist, I am constantly washing my hands in water or using anti-bacterial hand sanitizer both at work between clients and at home after diaper changes, messy meals, cleaning, etc. At one point, my hands were so dry and cracked they started to bleed. I tried different creams and hand lotions I had at home and from the drugstore, and nothing seemed to improve the quality of my skin. Then I found out about Formula 2 and immediately my hands began to heal. In a few days, all the cracks healed and my hands were soft again!! The biggest difference I found between Formula 2 and other creams is the protective barrier it leaves on your skin. I was amazed at how well my skin was protected and had maintained moisture after multiple hand washings! The product is wonderful and my whole family now uses Formula 2, especially on diaper rashes and dry skin. I recommend it to all my co-workers, clients and friends." - M. Terzaghi, MS CCC-SLP
"I am a pharmacist in Delaware writing to let you know how much I love Formula 2 Skin Care Cream. I use it on my two year old daughter for diaper rash, dry skin and scrapes. It works beautifully. I also use it for myself on dry chapped hands in the winter. Thank you for a great product." - C. Duffy-Ryder, R.Ph
"I use Formula 2 personally and find it works wonders for very dry skin & chapped hands. My patients love the way it helps their eczema and helps prevent diaper rash." - Dr. C. Taylor, M.D. - Pediatrician
"I have used Formula 2 on my daughter since she was an infant. It is the best healing cream for diaper rash and for when her infant eczema flares up. I recommend it to every new parent." - K. Nicholson - RPh