Formula 2 Skin Care

We develop pharmacist-formulated products to address severely dry, cracked, irritated or itchy skin conditions. Visit our Shop to learn about our current products:

Formula 2 Skin Care Cream (in three sizes) - a powerful moisturizer and barrier cream for dry, cracked, irritated, or itchy skin. Recommended by doctors and nurses.

Formula 2 Rectal Care Cream - rapid pain relief for hemorrhoids & other anorectal disorders.

Formula 2 Barrier Spray - for incontinence care and diaper rash.

CLICK HERE TO BUY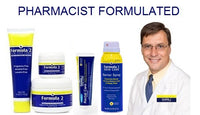 ORDER BY PHONE - TOLL FREE (833) 322-7326
FREE SHIPPING IN THE CONTINENTAL U.S.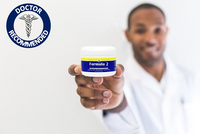 Recommended by doctors.

Many doctors in hospitals and medical facilities throughout the U.S. recommend Formula 2 for their patients' skin care needs.

CLICK HERE TO BUY
Multiple Products For Your Skin Care Needs
We develop products whose application is easy and precise.
Whether you are affected by dry, cracked, or irritated skin; or if you are experiencing irritation resulting from incontinence; or maybe you have developed hemorrhoids; here you will find a product to help you.
Formula 2 products are powerful & effective...

✓Formulated by a father & son pharmacist team

✓Recommended by doctors & nurses

✓No fragrance

✓No alcohol

✓No lanolin

✓No zinc oxide

✓Safe for all ages

✓Apply liberally

✓Three products for various conditions

✓Free shipping on all orders

Click Here To Buy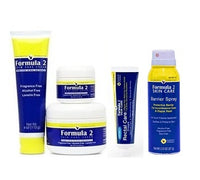 MADE IN THE USA

Formula 2 products are made in a state of the art manufacturing facility near Daytona Beach, Florida.
What some of our customers say
As a Diabetes Educator, I see very dry, cracked skin all the time. Several of my patients have tried Formula 2 Skin Care Cream with great results. Their skin is smoother with increased elasticity. I've seen it help heal cellulitis on lower extremities.  Personally, it helps my hands and cuticles from all the hand washing I have to do as a nurse.

Sherry L. RN, CDE, CPC
I have been using Formula 2 since I went to the Wound Care Center in Wilmington. It is great for my dry skin and it healed all of my bed sores. When my skin gets dry and starts itching... Formula 2 is the only thing that takes away the itching. I can't believe I had never heard of Formula 2 until I went to the Wound Care Center. I now tell everyone about Formula 2.

Beverly S.
My husband was in the hospital. While in there, the nurses saw his feet were really dry and scaly. They gave him Formula 2 Skin Care Cream to moisturize his feet. It worked really well. Within 2 days, his feet were looking wonderful-- no scaling!!! I have never seen or had a cream that was so thick and creamy. I am really happy the hospital gave it to us and I can keep buying it from a pharmacy when I need it.

Cheryl M.